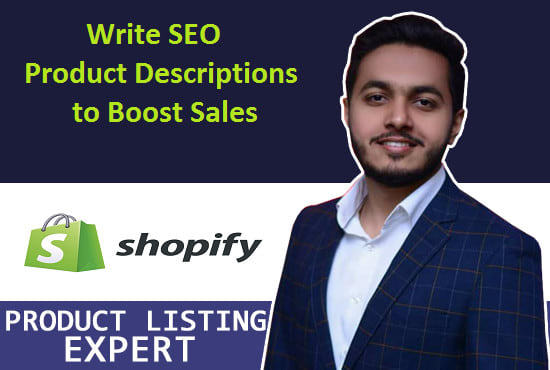 About:

Hey! This gig is specially created for the one who wants to sell
their products or wants to increase their SALE through their
Shopify store. Here you just give me details of products and I
will add SEO optimized tiles and catchy products description that
sells.
What will I offer in this GIG?
Add hot selling titles to your product. (One Each)
Write 160-200 words attractive product description. (One
Each)
AddMeta Tagsthat will help to increase Google
ranking included inPremium and Standard Package. ( One
Each)
AddImage Alt text included in Premium
Package. (One each)
What I'll not Offer in this GIG?
I don't offer my services in SEX Toys, wine or beer,
Bikinis and similar niches.
Why me?
Assign perfect collection.
Add Meta Tag and Image Alt Text.
100% Money Back Guarantee.

Note That,
Custom Offersare Accepted Here.
Prices will differ based upon a number of products.
Please try to contact before placing an order.
Reviews


balage6:Faris is very fast and like the style he writes!
Recommend to everyone!
faris_r:Outstanding Experience. Will work with him again.
anass17wac:looking forward to work with you again
faris_r:Best Buyer. Highly cooperative.
nikogoz:He made perfect description for my product!