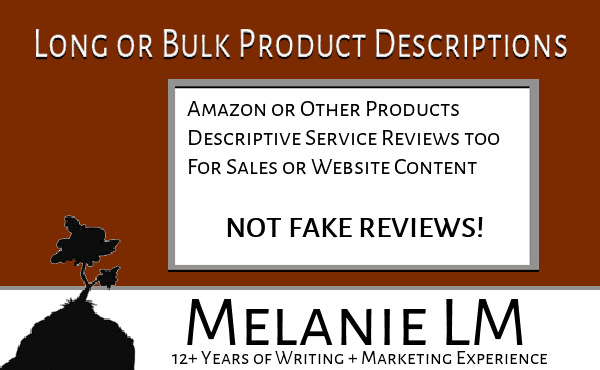 About:
I will write product descriptions or service descriptions for e-commerce, online shops, affiliate marketing, niche websites, or service companies. This can include everything from a creative description of your hand-crafted item to a comparison between one or more Amazon or other affiliate products, to in-depth descriptions of a local service you provide like plumbing or health and wellness services.
**I do NOT write fake reviews pretending to be an actual customer who used the product or service!**
Each product description will include:
Specific details about the product
Search-engine optimized (SEO) content to help drive traffic
Enticing language to encourage sales
Top-quality American English from a native speaker in the USA
Success with online or offline sales depends on attracting consumer attention and converting those shoppers into buyers. The right product descriptions can help.
Reviews
:all is good. thank you
:I am very happy with the service. The seller is very responsible for my orders, also she replies very fast. The article is very professional and of high quality. I will keep using this service.
:I love this writer's style!
:Thank you! It was a pleasure to write for you.
:Professional writer. Pleasure to work with.