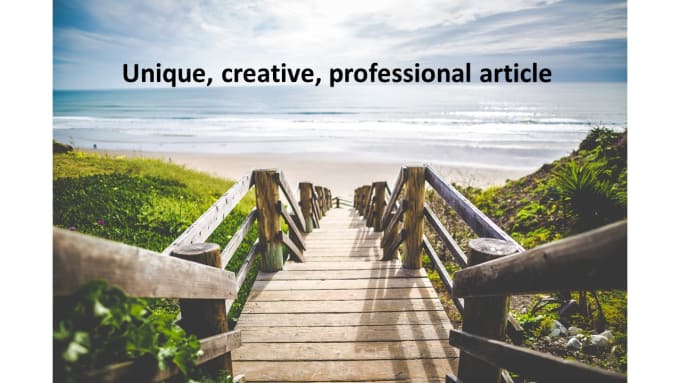 About:

Professional, unique, creative content on any
topic


Do you want to boost
visibility? Do you want to increase
sales? Do you want to stand out?
If you do, then you need content that meets your customers needs,
not content that just sells your goods and services.


I will write a creative, unique, SEO friendly article of 500
words in 48 hours for $10.
What you can expect:
– 13 years' customer service experience – I know what your
customers want
– Impeccable writing skills

– SEO optimised content
– Unique and 100% original content
I specialise in topics relating to:
– Surfing
– Lifestyle
– Veganism
– Travel
– Conservation
– Sustainable fashion
And much more….
Check out my gig for other packages; for add-ons feel free to use
the gig extras.
DON'T WAIT, get in touch today!
Reviews


janjuc:Great start to a longer-term​ project! Thanks a lot.
louiserey:Always a pleasure to work with.
osama14:excellent job.
louiserey:Osama is passionate about his business and wants to
ensure that his personal touch is kept in the content for his
business, but he needs to ensure that he communicates that to
sellers. Osama responded to messages in a timely manner and was
easy to contact.
capa11:Outstanding! Excellent job asking questions to understand
exactly how article should be written, which resulted in a great
product in the end.