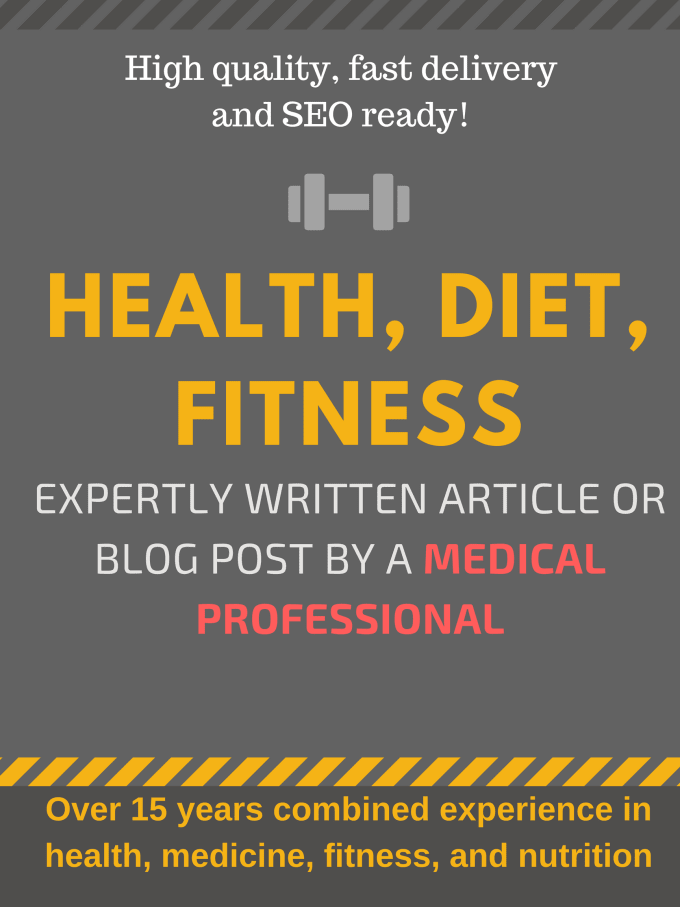 About:
Need help writing health, nutrition, or diet blog post? Need engaging and accurate content? Let an expert write it for you.
Why should you choose me?
– I am a medical provider who is formally educated on the subject.
– I own and actively run my own medical practice, this subject is literally my job.
– I write original content. No plagiarism.
– All orders are SEO ready with keyword integration.
I have over 15 years combined in health care and fitness. I have a medical degree, a degree in cell and molecular biology, and more. In my medical practice I run a medical weight loss and nutrition clinic. In my free time I am a blogger, body builder and fitness coach.
Topics Include:
1. Nutrition
2. Diet/Weight Loss
3. Yoga
4. Motivation
5. Fitness/Exercise
6. Weight Lifting/Bodybuilding
7. Welness
8. Beauty/Skin Care
9. And much more!
Just provide me with what direction you would like me to take your article and I will get to work right away.
I allow for unlimited revisions. I want you to be 100% satisfied with your result and will work with you until you are happy with the result.
Reviews
:satisfied!
:Great to work with you Lareine!! Let me know if there is anything else I could do for you. =)
:Absolutely amazing! Second time I have ordered his gig. Great piece of work.
:Usman is an excellent guy to work with. He is polite, considerate, and works with you to determine exactly what he is looking for. I look forward to working with him again.
:Great! Amazing piece of work.