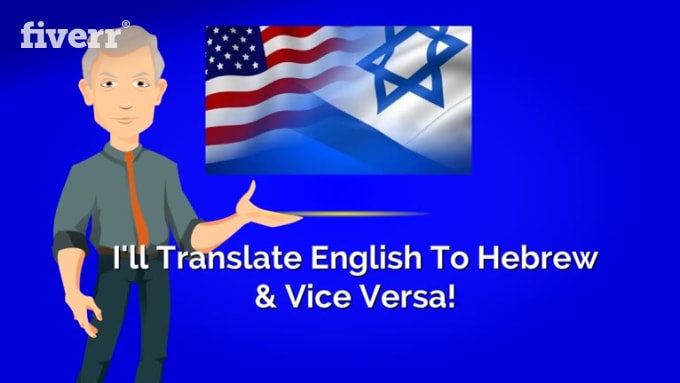 About:

***Please contact me before placing an order to check
my availability***

I will translate English-Hebrew and Hebrew-English, any
kind of translation text You need up to 100 words for only
5$!
I have plenty of experience in the translation of
academic papers, articles, websites and much more.
If you will check my resume, you will see that I have worked
for an American company for more than 4 years.As a
part of my role, I needed to translate protocols, regulations,
etc, from Hebrew to English for my management, as well as
translating from English to Hebrew for my employees.
Translation is more than just words, it is intonation,
reference points,and subtext. As a native Hebrew and
English speaker, I know how to make a translation sound like
the original writer intended.

Customer satisfaction is very important to me and therefore
I will always do my very best to meet and exceed my
customers' expectations.
For custom translation or transcription projects (nothing is
too big or too small!) – please feel free
tomessageme. Fast response is
guaranteed!
תרגום זריז ומדויק, מאנגלית לעברית ומעברית לאנגלית.
Reviews


unityurbanfarm:Excellent work! Well done!
adas2013:Great buyer! Goodluck on your meeting!
idohasson219:שירות מהיר, מקצועי ומדוייק. הייתי צריך תרגום
לפרוייקט מסויים מעכשיו לעכשיו וקיבלתי הכל מוכן אחרי שעה!\nממליץ
בחום!
adas2013:Great buyer! I would love to work with you again! 🙂
sunali88:Wonderful seller! Will order from him again if I need
any Hebrew translations in future.