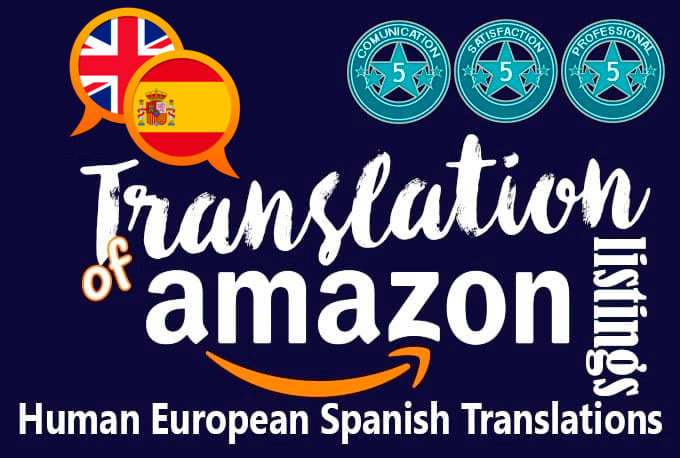 About:
✪ – Amazon Listing Translation into Spanish – ✪
Title – Bullets – Description – Important Information
For custom quotes, contact me anytime with your English Listing ASIN or the text you want me to translate to Spanish.
PackagesOptions:
» Basic Package – Title, bullets, and description Translation optimised for your Spanish Main Keyword
» Standard Package – Basic package + your Backend Search Terms
» Premium Package – Standard package + 5 Long Tail Main and Secondary Keyword Optimization.
➡️ You can order search terms and PPC keywords from the extras too!!!!
Why you should choose me:
✔ Manual Spanish translations with localization
– no Google Translator
✔ Complying Amazon limits
✔ 120% Satisfaction Guarantee: SEE FAQ
I welcome those looking to expand their businesses. Spain is a HUGE market with a lot of potential. I will be happy to help your business succeed in the Spanish market.

Any Doubt? Special Requests?
Contact me with the number of words or the Amazon Product URL.

I'm looking forward to offering you an AMAZING EXPERIENCE.
Reviews
:VERY impressive with the professionalism – we will be back again!!
:Super glad to help you with your listing! I look forward to much success with your business!!
:Great work and fast service. Will use again.
:I am so glad to help you with your business! I look forward to much success with your Amazon business!!
:So pleased with the service and translation! \nTranslation delivered promptly, and Roxita went above and beyond to help me out! Great communication and fast reply to messages. Really can' recommend enough! If i ever need anything else translated into Spanish, I will 100% use Roxita's services again. Extremely pleased, thanks so much!!