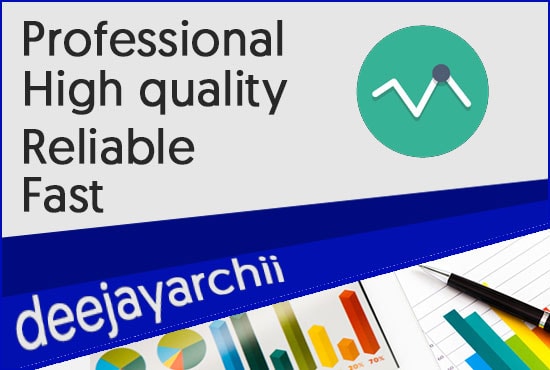 About:

Do you need help with your business data?
I am here to help you on making logical decisions (Based on data
analysis and research).
Here is a list of things I can do:
1) Create visually appealing dashboard (Pivot Charts + Pivot
Tables + Slicers)
2) Import data into your Excel file from multiple data sources
(Txt files, Excel files, CSV files, SQL database, etc)
3) Create measures using DAX (Data Analysis Expression)
functions. (For example, sales data by region and year).
4) Use CUBE functions to create custom reports (That are far
beyond pivot table capabilities)
5) Answer your questions (What is YTD sales, what is my growth,
what is the best performing product, etc).
6) Use my Excel VBA programming experience to add custom
functionality to your file
7) And a lot more…
* Please contact me before placing an order. I will be able to
tell you exact price and delivery time after you provide me all
the details. Also, you will be sure that your requirements are
withinyour budget.
* I will solve all problems after delivery (If there will be
any).
This is your chance to get help from a true Excel GURU!

Reviews


:Ultra fast turnaround. A+++
:Fast, easy and great communication. Thank you! 🙂
:Incredible experience. This was a very complicated request and
Deejayarchii did a great job not only completing my initial
requirements, but providing ongoing refinements during the
testing phase. The few problems we ran into were handled
immediately and resolved the first time around. I look forward to
working with Deejayarchii again soon!
:Thank you for tip! It took 15 revisions to make it perfect and
solve all the problems. I am interested in a great result too
because long-term business relationships are my top priority! Let
me know when you need my services again! 🙂
:This men is the wizard you are looking for in Excel. Make sure
you make very clear what you want and he will deliver. Definitely
will come back for more.