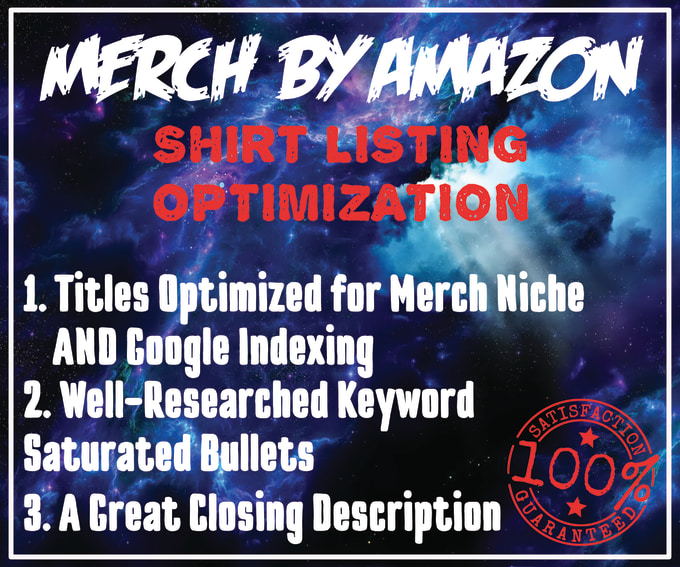 About:

Have a MBA Account and don't know where to start?
Been pumping out designs but can't figure out why they don't
sell?
Are your designs good but your written English could use some
help?
Well look no further because I can help you with all of it!
Hey, my name is Mike and I am aPro-level Merch By Amazon
designerwho has spent the last 6 months honing my craft
when it comes to niche research and t-shirt design.
I've developed my own research method geared towards finding
niches you can actually rank in.In six months I have
already taken my account all the way into Tier 1000 and I can
show you how as well!

This gig is specifically for those who feel like their Amazon
listings could use improvement. I will look over your listing and
re-write it for the niche and/or customer you are targeting. it
is a proven fact that men and women respond to different
emotional triggers when making purchases. I research your niche
and mix great keywords and emotional triggers together to create
a well written listing that will be sure to engage your
customers!
So if you want a little extra help with your MBA account, contact
me and lets get your
designsSEENandSOLD!


Reviews


:This Gig did a great job on my Merch T-shirt listing. I love how
smart and excellent looking detail that he wrote. Communicate is
fast and delivery was on time. Definitely come back for his
service again.
:Brilliant always consistent.
:Was very easy working with Michael, Solid Write up. Great
Attitude.
:Brilliant, I highly recommend.
:Really good he improved the description 100%