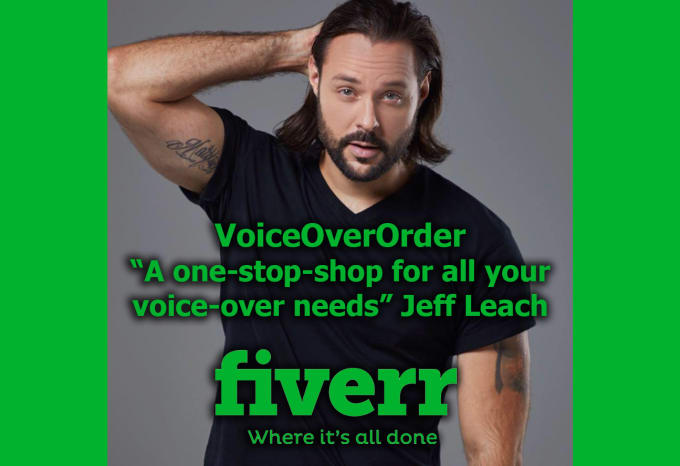 About:

With over a decade of professional voice over experience
on major commercials, triple A video games,
television,radio work & digital broadcasting,
I have the voice YOU need.
With campaigns for Sony, SEGA, NBC Sports, Creative
Assembly, TotalRock, GCap Media, Kia, Citroen, BBC Radio 1, Xfm,
Dr.Scholl and many more I am well equipped to provide
you with either a bright, deep and engaging British male
read or one of my many character voices or accents.
Voice reels & examples of my commercial work can be found
here:https://tinyurl.com/ycsc95rm
I'm hired for my enigmatic performances, incredibly versatile
skill set and am happy to work on any project you may have
including: digital content VO, on hold messages, IVR,
video games, animations, sales videos, youtube videos, smartphone
apps, live event announcements, podcast intros/outros, radio
stings and commercials, television commercials and more.
Questions: are welcome prior to ordering as I
want to ensure you are happy.
Commercial Licences: include in your order,
unless not required.
Broadcasting Rights: are necessary if you're
advertising your production (social media sites, television, or
radio).



Reviews


phoebejaspe:Jeff was really thoughtful with the villain
character. Would definitely work with again when the game idea is
approved.
voiceoverorder:Thank you so much for using me on your video game
pilot! So excited to see the final project come to fruition and
thanks again for using voiceoverorder for your creative process!
doubleugames:Quick responsable, kind, enthusiastic, professional
JEFF..! Don't hesitate!!
voiceoverorder:It was a pleasure to provide this character voice
for your game and can't wait to work with you and your team again
on a future project. Thanks again for the swift communication,
professionalism and kind words of feedback Yoon. Wishing you
immense success with the new game!
avialbo:Jeff is a true professional. He was not only
collaborative and punctual with his work but also empatethic and
caring towards our project. It was a great experience to work
with him and I strongly recommend Jeff to everyone who has a
challenging project and looking for the perfect teammate to make
it spectacular.