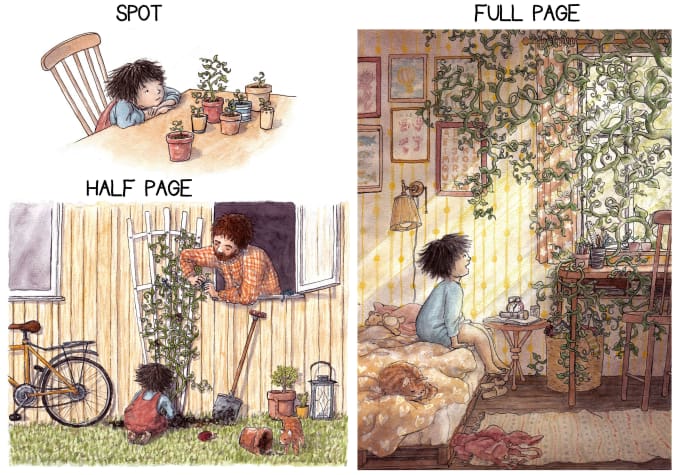 About:

This gig is for book projects only. Please visit my
other gigs for anything else.
Hi! My name is Embla, and I'm a professional children's book
illustrator. I mainly work with picture books, but do of course
welcome other types of projects as well.
It takes a lot of planning and developing to make the best
possible book, and before we get started on the final
illustrations,I'll work through concepts, characters,
style-tests and storyboard.
Everything I do happens with feedback from the author, and we are
in close contact during the whole process, to ensure results that
we can both be proud of.
The prices shown here are only guidelines. Every
book project is priced individually, as each one is unique.
Prices depend on various factors, like how much developing is
needed, how many pages in what size, how many spots, half pages,
and full pages there are, how many characters, etc.
Send me a messageto get a better idea of the cost
and time frame for your book.

Commercial use licence (not copyright) is automatically included
with all final illustrations.

See more of my work here:
https://www.flickr.com/photos/emblaester/


Reviews


aubreyfowler:It was an absolute pleasure working with Embla, she
exceeded my expectations and did such a phenomenal job!
Communication was a breeze, in terms of working out all of the
details and answering an questions I add. Embla is sincere,
amazing, efficient, diligent, friendly, creative and thorough to
say the least. I'd highly recommend her!
emblaester:Thank you Aubrey! It was an absolute pleasure working
with you!
mauroiwanow:Amazing! Beautiful!
emblaester:Thank you so much! I really enjoyed working with you!
tinysponges:Working with Embla is a dream come true!\n\nNot only
is she a very talented illustrator, but she has a super-organized
approach to developing the project and her communication is
simply fantastic!\n\nLastly, she has a wonderful approach to
truly understanding an author's vision and translating it into
practice.\n\nShe's truly outstanding…