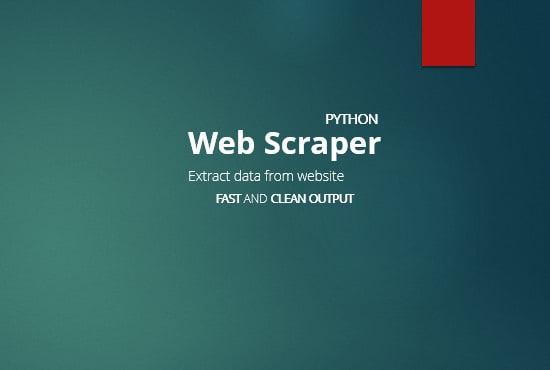 About:

About me: Data Scientist, specialist in Python language doing
automatizations, web scrapers and web crawlers for a lot of
applications.
EXTRACT DATA FROM WEBSITES / WEB
SCRAPER / WEB CRAWLER / CLEAN
AND ORGANIZED OUTPUT AS YOU NEED / COMMENTED
CODE
In this gig I can write you a Python Web Scraper (or Web Crawler)
to extract the required data. The output with data you want is
gonna be well-organized with the extension you need: xlsx, csv,
txt, json, pickle, etc.
If you need an automated Python script to extract data
from a website, I can do it for you. Just send me a
message and talk more about the data you want to extract.
PS: Please, message me before placing the order because each work
depends on its complexity level!!!
Reviews


ultradan:excellent seller
ultradan:good seller~
luizmauricio:Very nice buyer. Explained clearly what needs and
very respectful 🙂
ultradan:excellent seller
ultradan:good seller~