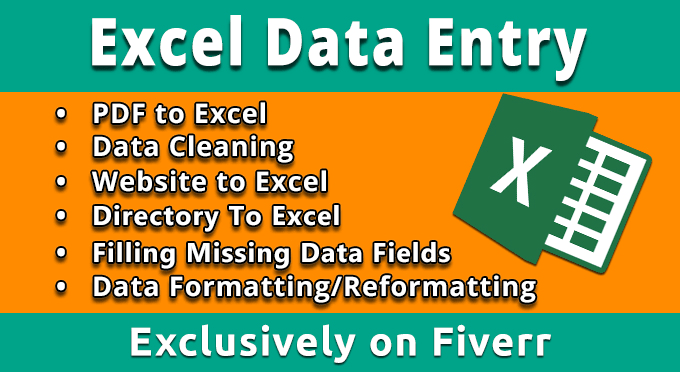 About:
Are you stuck with your excel spreadsheet work and need help? Just tell me your spreadsheet problem, I will find a quick solution for you!
I will BE your Excel Superstar and provide you Excel Data Entry, Data Manipulation, Data Merge, Data Cleanup and Formatting services!
I am offering ALL sorts of Excel data entry and data manipulation services such as:
Scan/PDF to Excel conversion
Collect data from a website to excel
Collect data from directory to excel
Research and fill the missing data fields
Merge multiple excel data into one master file
Data formatting/reformatting/cleaning
Data dedup/remove duplicates
Simple data manipulation
The first name and Last name separation
City, State, Zip code separation
Data type and format setting
Basic and Intermediate level calculation
Help with Vlookup, Pivot Tables, Formulas, Conditional Formatting
PS: Please contact me before placing an order so that we can discuss and offer you a better solution.
Reviews
:great job and super fast delivery!
:This was a real quick job. Thank you so much.:)
:Very responsive and quick turnaround.
:Fast deliveries and revisions. Great job all in all.
:Disappointing! He received Fast delivery, great results, and a couple of free revisions. Then why such low rating? No logic at all. I will reserve my right NOT to work with you in the future.