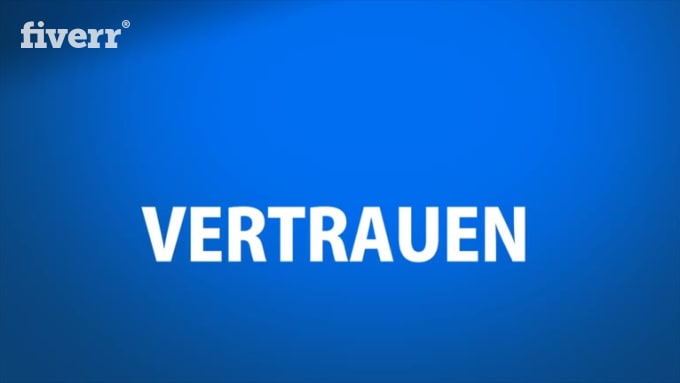 About:

☆☆☆ THE PROFESSIONAL GERMAN VOICE
OVER☆☆☆
"Wir geben mittelständischen Betrieben und Unternehmen,
sowie Selbständigen die Möglichkeit, ihrprofessionelles
Auftreten/Produktplacement abzurunden undgarantieren mit
unserem Können und unserer jahrelangen Erfahrung qualitativ
hochwertige Resultate im Bereich der Sprachaufnahme."
Professionelle Sprachaufnahmen
Auf Wunsch auch in Englisch
Professionelle Post-Produktion
Live-Aufnahme Sitzung via Skype optional
Ich freue mich auf unsere Zusammenarbeit
mit freundlichen Grüßen
Rafael Banasik

Bitte beachten:
NUR Texte in der gewünschten Sprache!

——————-

"We give medium-sized companies, companies as well as
self-employed the opportunity to round off their professional
appearance / product placement and guarantee high-quality results
in the field of voice recording with our ability and our years of
experience."

Professional german voice over recording
Also in English (neutral english, no typical german accent)
Professional postproduction
Live session recording via Skype optional

I look forward to our cooperation!
sincerely
Rafael Banasik
Please note:
scripts in the desired
language ONLY!



Reviews


:It was again a pleasure working with you again! Thank you soooo
much :))
:Großartig. Herzlichen Dank für das tolle VO!
:Ich bin so glücklich mit dem, was dieser Verkäufer für mich
getan hat. Die Kommunikation war fantastisch und ich wurde
während des gesamten Prozesses mit einbezogen. Das Ergebnis ist
jenseits von allem, was ich hätte verlangen können. Einfach
wunderbar. Wird sicher wieder von diesem Verkäufer kaufen 🙂
:Rbvover hat eine ausgezeichnete Sprachvertonung erstellt –
sowohl für den deutschen als auch für den Englischen Teil unseres
Videos. Äusserst professionell, schnell, freundlich und
zuvorkommend. Wir werden gerne wieder mit rbvover
zusammenarbeiten. 100% empfehlenswert.
:Good communication \u0026 nice work