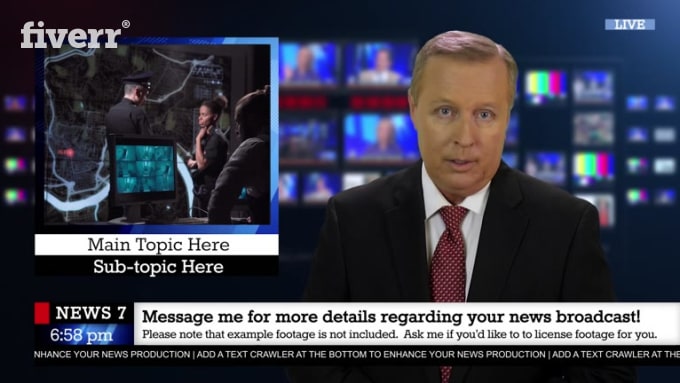 About:

*** A SCRIPT IS REQUIRED | $5 per 20 words |
Script Limit 250 words***
Welcome to my newsroom studio gig! If you have an important
announcement you'd like to make, from company news to birthdays,
anniversaries, etc., this might be the perfect gig for you!
IMPORTANT:
A FINAL script is required at the time the order is
placed
Please refer to my FAQ for a link to my background
inventory. Background in example is #3.
Example video footage is not included. Please ask if
you need me to license images or footage for you.
Extras NOT included in base price
For a single, $5 gig you get:
I will read your 20 word script.
If your script is longer than 20 words, then please order
the
appropriate number of gigs, i.e. 40 words = 2 gigs, 60 words
= 3
gigs, etc.

All videos are shot and delivered
in HD1080p

I will wear a suit & tie.
All graphics, intro, lower thirds, etc. are all available as
Extras and are NOT included in the base price.
Standard delivery is always 7 days
IMPORTANT: There are some videos I
won't do:
No testimonials
No wealth building, crypto

No health cures
No religious or political content
No humiliation videos
No swearing
I will not dance, dab, etc.
Reviews


hydemosin:Awesome \u0026 Nice experience…it was simply awesome
to work with …Thank you so much
tsweezey:Great working with you again!
myxyposition:Very Helpful Pro, Did a great job
tsweezey:Terrific customer and a real pleasure to work with!
davemarken:Excellent. Great Guy.