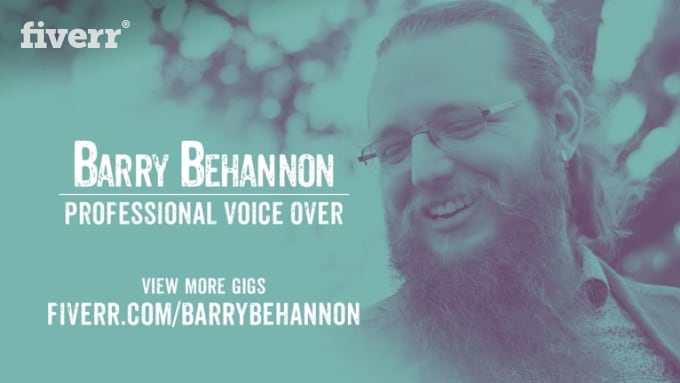 About:

Fast // Confident // Reliable
I'll deliver a stellar version of your content in under 48
hours. Guaranteed.
Professional Equipment // Professional Software //
Professional Results
With more than a decade of voice work, I've provided the
same top quality audio for large companies like Hewlett
Packard as well as local productions like Doomsday
Wrestling in Houston, Tx.
Flexible Voice // Unlimited Possibilities
Whether you need something authoritative, casual, or off-the-wall
goofy, I'll help you find that perfect mixture to bring out
the very best in your content.

Provide Direction and Pronunciation Guides
(happy/excited/serious; names, lingo)
If no
direction or guides are included, I'll use my best judgment as to
the energy and inflection I put into the VO. Without direction or
a pronunciation guide, any requests for change in
direction/pronunciation will count as a revision.
Be sure to select the correct usage rights

Select Commercial Rights if the audio is to be used
for anycorporate, promotional, and non-broadcast
purposes.
SelectBroadcast Rights if the audio is to be
used forfull broadcasting, which includes
internet, radio, and TV "paid channels".
Reviews


redapplesmedia:Great job, perfect read, quick turn. We'll be
back, for sure!
barrybehannon:Great buyer! Thanks!
reviewpush:Great! He almost NAILED the script and VO on the first
take; just had a few minor cadence-related requests, and he did
PERFECT with the feedback given on the revision. We are very,
very pleased with the end product, highly recommend working with
Barry! Easy, communicative, and provides stellar results.
barrybehannon:Had a fantastic experience! Reviewpush knew exactly
what they were looking for and were very clear in their
feedback.\r\nExcellent buyer!
emilylabrie:Quick and accurate! Will work with again!