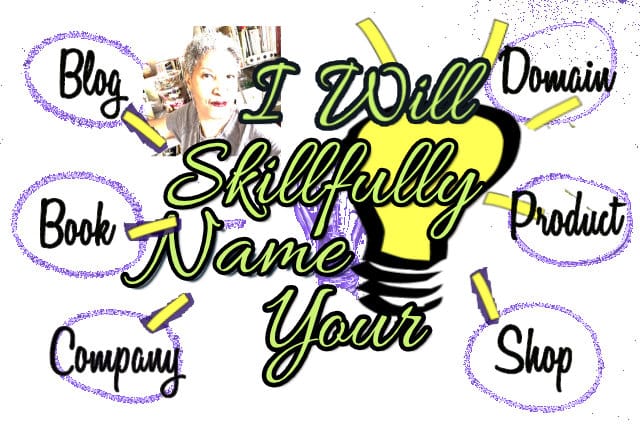 About:

Please msg me before you order my gig so that
I can learn about your naming needs and make a custom order
especially for you. Don't forget to read my FAQs below for
valuable info. Thank you.

I am a really BIG namer. Why? Because I LOVE naming! I
will create 5 branding names for the same product, domain,
blog, shop, business, etc.,
so that you will have a choice in what you want to use. Through
the revisions that I provide, I will further alter or adapt
either of the 5 names according to your needs. If you request new
names, I will send you another custom order. All names will
belong to you.
When creating names, I use the Whois domain
registry and Namechkr to verify that my names are available at
the time that I present them to you. All legal responsibility
for the use of your names falls on you. I do not register or
trademark names nor provide legal advice.
This gig is for names for 1 product, domain, blog,
shop, business, etc. I offer
a gig EXTRA if you would like another 5-name packet for an
ADDITIONAL product, domain, etc.
Let's get started creating your exciting
names!
Reviews


blom2024:Thank you for being so highly professional and
fast!\nWill definately make use of your services again!
acdesignstudio:I enjoyed working with this buyer and learned a
lot through my research for her fascinating project. She swiftly
marked the order as completed and I would gladly work with her
again.
ayeledalmeida:I absolutely loved these names! you've given me a
lot to work with and I'm so happy to have worked with you! You're
creative and listen so well to my needs. 10/10 would love to work
with you again!!
acdesignstudio:I enjoyed so much helping and working with
Ayeledalmeida. This buyer swiftly completed the requirements and
marked the order as completed. I recommend this buyer and would
work with her/him again.
yanliping:Excellent work! The seller delivered the work within
hours! She is very thorough in her answers and is a great
communicator. The quality of her work exceeded my expectations. I
would definitely use her service again in the future!